Life and weather are related in various ways. Uncertain, new beginnings, full of changes, and equally unpredictable, just like changing seasons. When the rain comes floating into your life, have a glimpse of the following quotes about dancing in the rain to uplift you.
Dancing in the rain symbolizes the art of living regardless of life situations. It implies that one has figured out how not to let anything prevent them from unleashing their full potential. They don't just sit for bad and small things in their life to pass; rather, they get up and face every obstacle and appreciate life.
Gray skies and rain are the perfect representation of sadness. Occasionally, you may have noticed a drop in your mood when clouds rise, and rain starts falling from the sky. Rainy days can get you down. A boring day may get you not only physically down but also mentally.
One must learn to be courageous when things get tougher and challenging. Otherwise, anger and depression may overwhelm us and make our lives full of numbness and empathy.
When it feels like it is hysterically raining in your life, it's time you made a change. The following motivational, inspirational, funny, and wise quotes will enable you to see things more positively so that you can figuratively and literally dance in the rain.
Quotes About Dancing in the Rain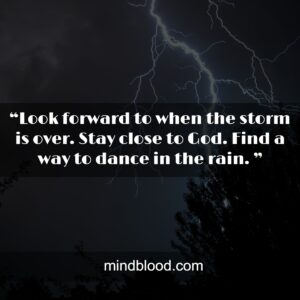 1. "Look forward to when the storm is over. Stay close to God. Find a way to dance in the rain. "– Kyle Jessen.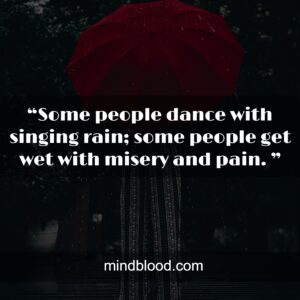 2. "Some people dance with singing rain; some people get wet with misery and pain. " – Debashis Mridha.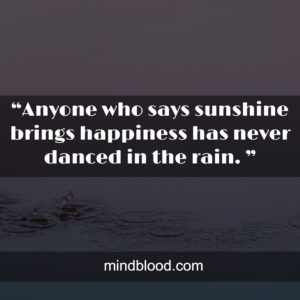 3. "Anyone who says sunshine brings happiness has never danced in the rain."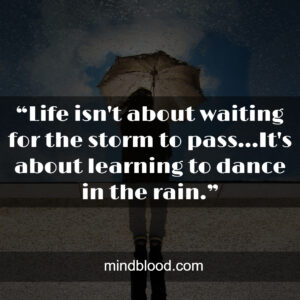 4. "Life isn't about waiting for the storm to pass…It's about learning to dance in the rain."― Vivian Greene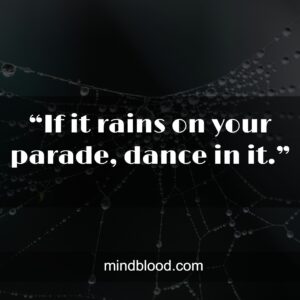 5. "If it rains on your parade, dance in it."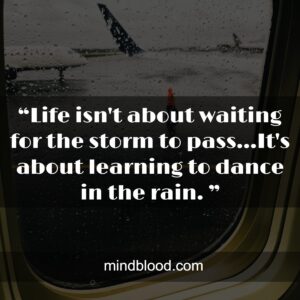 6. "Dancing implies action marked by skill and grace. You may be feeling bad because of the rain in your life, but you can still take action that makes you come alive."- Jerome T. Murphy.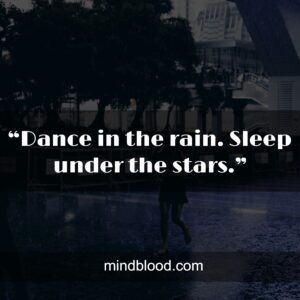 7. "Dance in the rain. Sleep under the stars."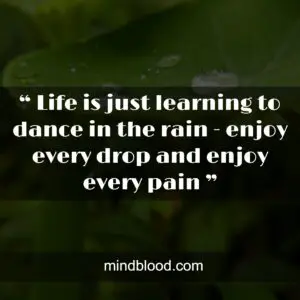 8. "Life is just learning to dance in the rain – enjoy every drop and enjoy every pain "- Mary Rose.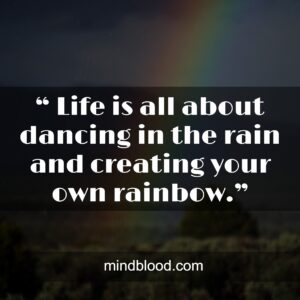 9. "Life is all about dancing in the rain and creating your own rainbow." – Theras Primus.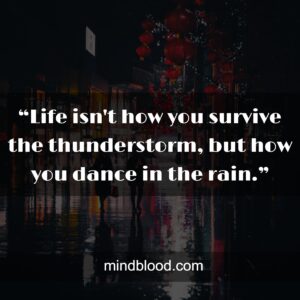 10. "Life isn't how you survive the thunderstorm, but how you dance in the rain."- Adam Young.

11. "From dancing in the rain to crying silently in the rain we all grew up."- Malcolm Monserrate.

12. "It is better to dance in the rain than to sit under a leaking roof."

13. "Greet the sun every morning as though it's your best friend. Dance in the rain as though you are dancing with a lover." – Sara Strain.

14. "The person who dances with you in the rain will most likely walk with you in the storm."

15. "After the rain, the sun will reappear. There is life. After the pain, the joy will still be here." – Walt Disney.

16. "Raise your words, not voice. It is rain that grows flowers, not thunder." – Rumi.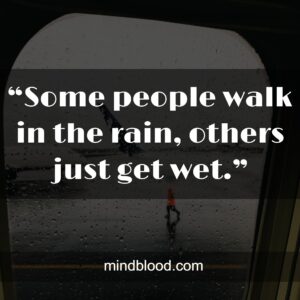 17. "Some people walk in the rain, others just get wet." – Roger Miller.

18. "Everything is more beautiful in the rain. Don't ask me why. Because I love to dance in the rain."

19. "One can find so many pains when the rain is falling but I heart always dancing on rain." – John Steinbeck.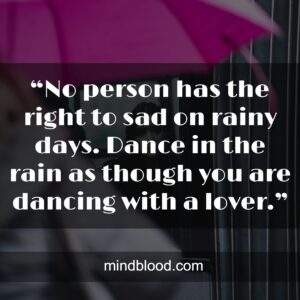 20. "No person has the right to sad on rainy days. Dance in the rain as though you are dancing with a lover."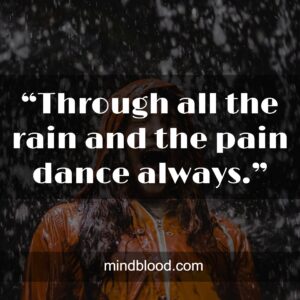 21. "Through all the rain and the pain dance always."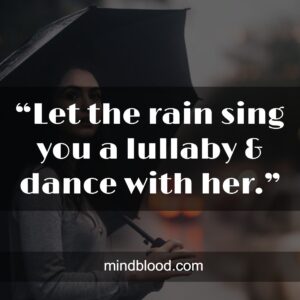 22. "Let the rain sing you a lullaby & dance with her."— Langston Hughes.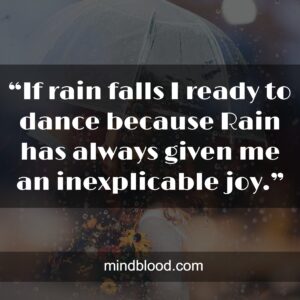 23. "If rain falls I ready to dance because Rain has always given me an inexplicable joy."

24. "Life isn't finding shelter in the storm. It's about learning to dance in the rain." – Sherrilyn Kenyon.

25. "Rainy days should be spent at home with a beautiful song and dance."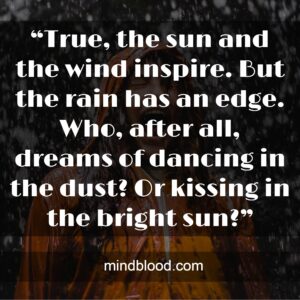 26. "True, the sun and the wind inspire. But the rain has an edge. Who, after all, dreams of dancing in the dust? Or kissing in the bright sun?" – Cynthia Barnett.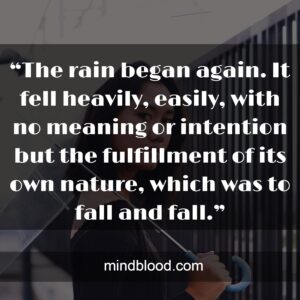 It's all about having an Uplifting Attitude
What makes the above quotes so powerful is that they were written by people who found themselves standing in the rain several times in their lives. Instead of complaining about the rain, they discovered new ways to make the most out of their situation.
These life quotes are worth keeping in mind. Some people think they can manage to be happy when money's in the bank, when the spouse says everything right when the children are behaving perfectly, and when the cat's feeling lovable.
Since money is unreasonable, spouses aren't perfect, and children will be children, usually, these people don't end up being happy as much as they sigh. And scowl. And complain.
An uplifting attitude, hope, eagerness, and good faith makes everything in life simpler. An uplifting mindset uplifts you when you're down. An uplifting mindset doesn't rise out of what befalls you. It's not difficult to be happy when everything works out to your expectations.
However, it is at this point that you experience astonishing challenges and misfortunes that you show to yourself and your entire surrounding your true attitude from how you decide to interpret what happens with you.
Positive thinking is a conventional idea. In any case, diverse logical tests have depicted both the mental and physical advantages of positive thinking.
An inspirational attitude can improve your cognitive ability, give you more certainty, and reduce the probability of creating conditions—for instance, hypertension and other pressure related issues.
Which quote inspires you the most when you feel down?
Do you have an outstanding quote that makes you happy even when life is treating you, unfairly? Let us know which quotes about dancing in the rain convey strong motivation to you.