Writing a thank-you for support or guidance message or note is a lovely way to express your appreciation.
There are numerous opportunities to send them, too. For example, in business, a thank you note could make the difference between getting a contract, a client, or the job and being passed over. As such, it tends to solidify the impression left with the interviewer and make you an exceptional candidate than the rest.
At work, a nicely written thank-you note or message can show your colleagues or team how you highly regard their hard work or let your boss be aware that you value their support.
If you take your time to write a message of appreciation, it will always be appreciated despite the circumstances. When you thank someone for their goodwill, they often tend to develop some positive thoughts about you and will never forget you.
Phrases and Quotes to Use to Express Appreciation
If someone offers you guidance and support, what's the best way to show appreciation? When you're writing a note of appreciation, make sure to choose a phrase that best fits your reason for saying thank you.
If you've been assisted on a project, at work, or with a problem, let the person know you appreciate their assistance. And reading some encouraging quotes can help you achieve just that. These thank you for your support and guidance quotes or words of encouragement will help you appreciate someone in the most delightful way.
Thank You for Your Support and Guidance Quotes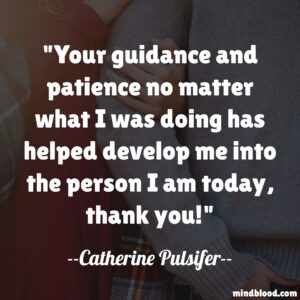 1."Your guidance and patience no matter what I was doing has helped develop me into the person I am today, thank you!" – Catherine Pulsifer.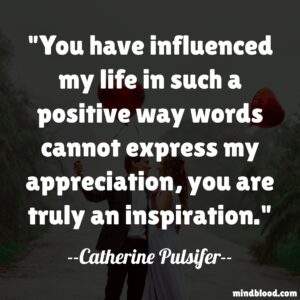 2."You have influenced my life in such a positive way words cannot express my appreciation, you are truly an inspiration." – Catherine Pulsifer.
3."From the bottom of my heart, I thank you, and appreciate all you have done. Your generosity has given me new hope!" – Catherine Pulsifer.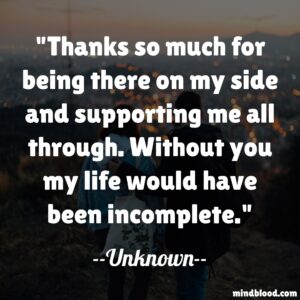 4."Thanks so much for being there on my side and supporting me all through. Without you my life would have been incomplete." – Unknown.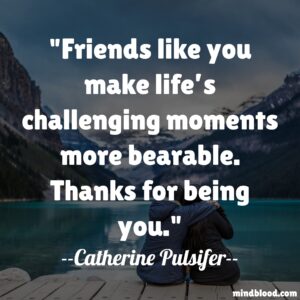 5."Friends like you make life's challenging moments more bearable. Thanks for being you." –  Catherine Pulsifer.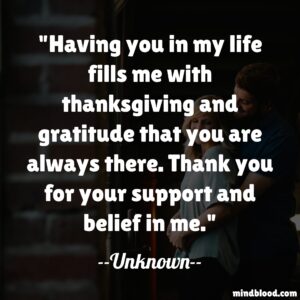 6."Having you in my life fills me with thanksgiving and gratitude that you are always there. Thank you for your support and belief in me." – Unknown.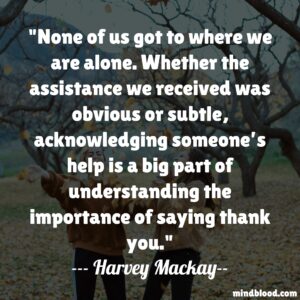 7."None of us got to where we are alone. Whether the assistance we received was obvious or subtle, acknowledging someone's help is a big part of understanding the importance of saying thank you." – Harvey Mackay.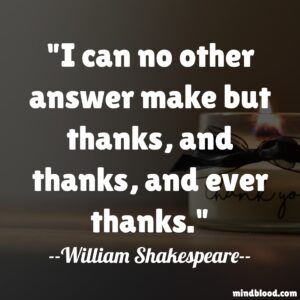 8."I can no other answer make but thanks, and thanks, and ever thanks." – William Shakespeare.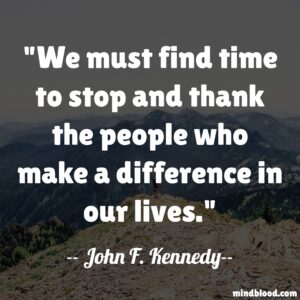 9."We must find time to stop and thank the people who make a difference in our lives." – John F. Kennedy.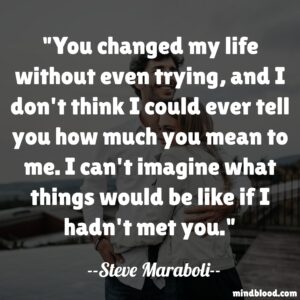 10."You changed my life without even trying, and I don't think I could ever tell you how much you mean to me. I can't imagine what things would be like if I hadn't met you." –  Steve Maraboli.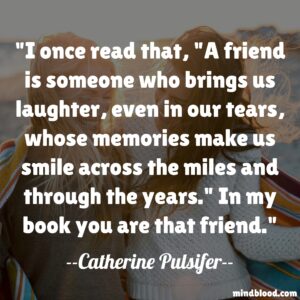 11."I once read that, "A friend is someone who brings us laughter, even in our tears, whose memories make us smile across the miles and through the years." In my book you are that friend." –  Catherine Pulsifer.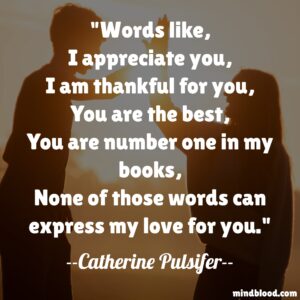 12."Words like,
I appreciate you,
I am thankful for you,
You are the best,
You are number one in my books,
None of those words can express my love for you."
 – Catherine Pulsifer.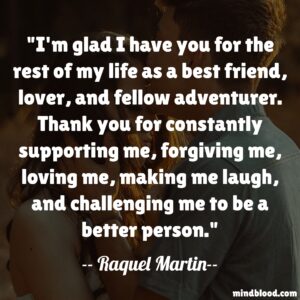 13."I'm glad I have you for the rest of my life as a best friend, lover, and fellow adventurer. Thank you for constantly supporting me, forgiving me, loving me, making me laugh, and challenging me to be a better person." –  Raquel Martin.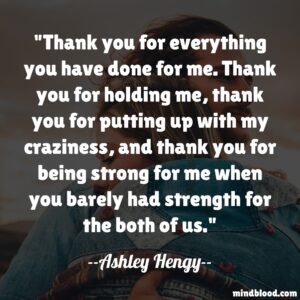 14."Thank you for everything you have done for me. Thank you for holding me, thank you for putting up with my craziness, and thank you for being strong for me when you barely had strength for the both of us." –  Ashley Hengy.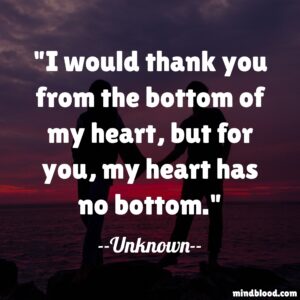 15."I would thank you from the bottom of my heart, but for you, my heart has no bottom." – Unknown.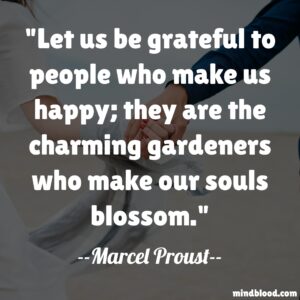 16."Let us be grateful to people who make us happy; they are the charming gardeners who make our souls blossom." –  Marcel Proust.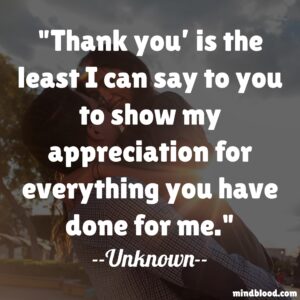 17."Thank you' is the least I can say to you to show my appreciation for everything you have done for me." – Unknown.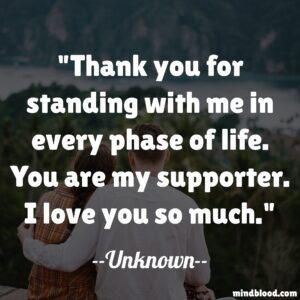 18."Thank you for standing with me in every phase of life. You are my supporter. I love you so much." – Unknown.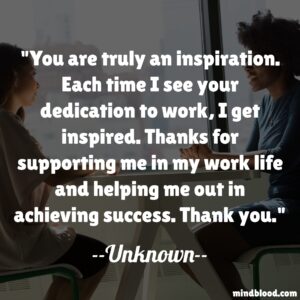 19."You are truly an inspiration. Each time I see your dedication to work, I get inspired. Thanks for supporting me in my work life and helping me out in achieving success. Thank you." – Unknown.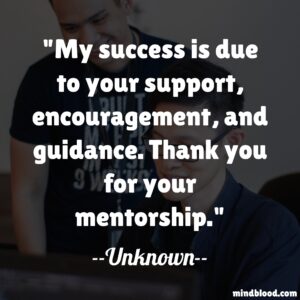 20."My success is due to your support, encouragement, and guidance. Thank you for your mentorship." – Unknown.
Being Grateful is The Key
Being grateful and expressing appreciation for guidance and support is a very rare act. Many people don't appreciate even a single help they get from their peers or elsewhere, not knowing that practicing gratitude goes beyond showing appreciation. It leads to increased joy, enthusiasm, energy, optimism, and happiness. And besides, it is also the key to opening more doors into your life and achieving success.
Once you enter this cycle of being thankful, you feel energized and optimistic. In turn, this motivated energy leads to action, which is a vital ingredient to success.
As a human, you will undoubtedly need other people's hands for advice, support, or guidance. And in turn, it's vital to show gratitude, which is not that hard. You don't have to repay the favor with something huge or expensive. Just a simple glimpse of gratefulness is enough. A single thank you note can be used to express your appreciation. It proves that you're thankful for the help and favor.
The above quotes for expressing gratitude were specially enlisted so that you can seamlessly copy and DM to someone you intend to thank or pen them down on a card. We are confident you can relate each of our quotes according to your condition. The best you can do is copy these thank you for your support and guidance quotes for sharing, either with your friends, family, or loved ones.
Let your friends, family, working peers, loved ones, or boss know how appreciative you are for them being in your life and holding your hand through difficult moments, treating your right, and adoring you every moment.