Beauty isn't just about your physical appearance. It doesn't matter if you wear the most expensive jewelry or the fanciest clothes. Your inner beauty is also very important. As it is said, beauty is skin deep.
Physical appearance does matter, but it comes second after a beautiful soul. What's inside your heart and how you treat people matters a lot. When you have a beautiful soul, you're truly beautiful.
A person with beautiful thoughts can always see the hidden beauty in everything he or she comes across. Through some inspirational quotes about being beautiful inside and out, let's celebrate the beauty within us, and of those around us.
The modern world has changed our perception of many things. One thing that has become extremely distorted is the perception of beauty. In the past, beauty was applied to all forms of literature and art.
However, the modern world's understanding of beauty is limited to outward appearance. Right from pop culture to modern society, the outward expectations of beauty have been gradually distorted and in one dimension.
This is a problem since everybody wants to showcase their beauty in some way. And when they can't keep up with the standards, a large number of people feel bad about themselves.
That is why it's crucial to have a look at what beauty truly means. So check out these beautiful quotes about being beautiful inside and out to see your own beauty today and boost your self-esteem.
Quotes About Being Beautiful Inside and Out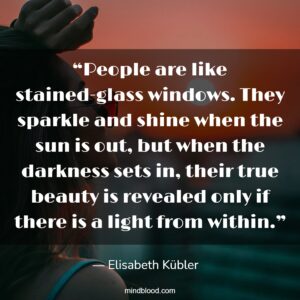 1. "People are like stained-glass windows. They sparkle and shine when the sun is out, but when the darkness sets in, their true beauty is revealed only if there is a light from within."― Elisabeth Kübler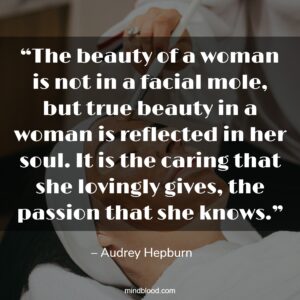 2. "The beauty of a woman is not in a facial mole, but true beauty in a woman is reflected in her soul. It is the caring that she lovingly gives, the passion that she knows." – Audrey Hepburn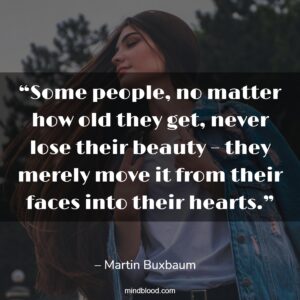 3. "Some people, no matter how old they get, never lose their beauty – they merely move it from their faces into their hearts." – Martin Buxbaum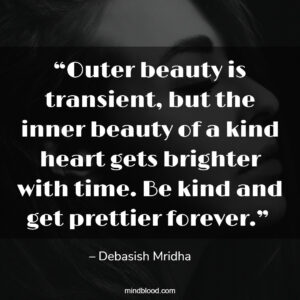 4. "Outer beauty is transient, but the inner beauty of a kind heart gets brighter with time. Be kind and get prettier forever." – Debasish Mridha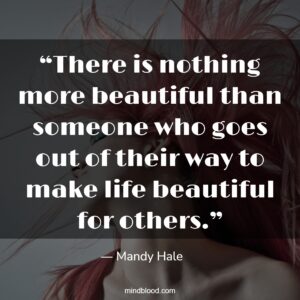 5. "There is nothing more beautiful than someone who goes out of their way to make life beautiful for others." ― Mandy Hale
6. "True beauty is not related to what color your hair is or what color your eyes are. True beauty is about who you are as a human being, your principles, your moral compass." ― Ellen DeGeneres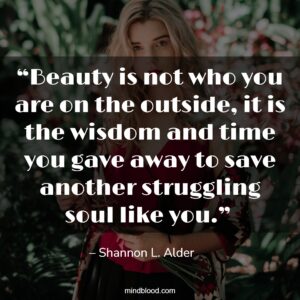 7. "Beauty is not who you are on the outside, it is the wisdom and time you gave away to save another struggling soul like you." – Shannon L. Alder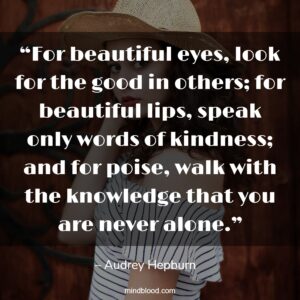 8. "For beautiful eyes, look for the good in others; for beautiful lips, speak only words of kindness; and for poise, walk with the knowledge that you are never alone." – Audrey Hepburn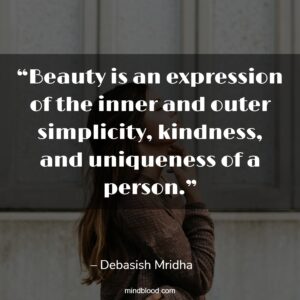 9. "Beauty is an expression of the inner and outer simplicity, kindness, and uniqueness of a person." – Debasish Mridha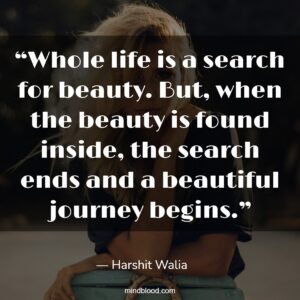 10. "Whole life is a search for beauty. But, when the beauty is found inside, the search ends and a beautiful journey begins." ― Harshit Walia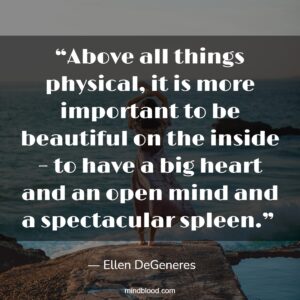 11. "Above all things physical, it is more important to be beautiful on the inside – to have a big heart and an open mind and a spectacular spleen." ― Ellen DeGeneres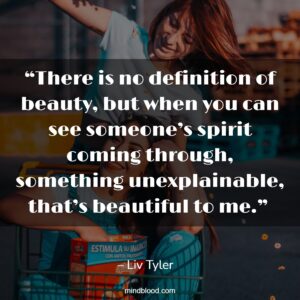 12. "There is no definition of beauty, but when you can see someone's spirit coming through, something unexplainable, that's beautiful to me." – Liv Tyler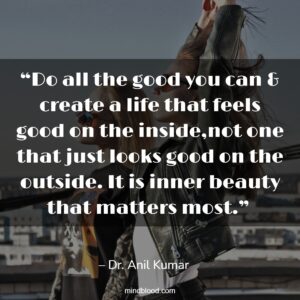 13. "Do all the good you can & create a life that feels good on the inside,not one that just looks good on the outside. It is inner beauty that matters most." – Dr. Anil Kumar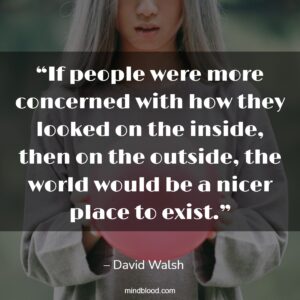 14. "If people were more concerned with how they looked on the inside, then on the outside, the world would be a nicer place to exist." – David Walsh 
15. "It's a kind of radiance. People who possess a true inner beauty, their eyes are a little brighter, their skin a little dewier. They vibrate at a different frequency." ― Cameron Diaz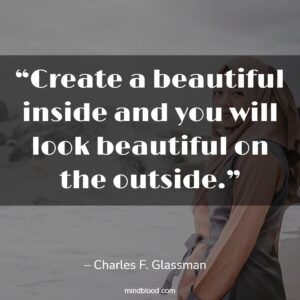 16.  "Create a beautiful inside and you will look beautiful on the outside." – Charles F. Glassman
So What Makes You Beautiful?
Think about the most beautiful person you know. What makes them beautiful? Is it their body shape? The symmetry of their mouth? The alignment of their nose?
Their perfectly straight teeth or the aesthetics of their chin? I guess it's much more than that. The most beautiful person is one who is generous, kind, honest, respectful, confident, and willing to help others.
And while they may have many reasons to hate others, they don't. Instead, they are filled with love which they give out touching everyone they come in contact with.
Beauty not only comes from loving yourself and being comfortable with your skin but also from accepting who you are. Yes, our peers and even looking at the media make us feel like we're not that kind of society's definition of beauty.
However, that doesn't mean we're not beautiful. Being beautiful comes from seeing the good in people. Being beautiful comes from being strong at our lowest points.
Being beautiful comes from doing what you want and not letting anything stop you. To be beautiful is to look past the remarks, the "you're not good enough", the "you can't do it", and seeing it all as a grain of sand.
If you want to be beautiful, never let anything or anyone deter you. Take charge of your mind and pay attention to your thoughts. Starve the negative, belittling thoughts and feed the positive and loving ones.
Do not let anyone tell you what you are when clearly there's no definition. Don't let social media and the internet fool you into thinking you are not beautiful. At the end of the day, wake up with an urge to better yourself every day.
We hope you've enjoyed reading these quotes about being beautiful inside and out and are inspired to feel confident about yourself. Make sure to share these quotes with your friends, family, or loved ones.