We all have a particular person with whom our feelings are unique and sweet.
If you've never been in love, then you can relate how it's usually challenging to stop fantasizing about the ideal person you adore.
When you love someone with all your heart, all your thoughts and actions are connected to him or her.
Some people know how to express their love for their special one, while others, on the other hand, have no idea whatsoever how to express or address their love towards someone.
Sending a bouquet of flowers or expensive gifts might be an ideal way to express love.
However, a simple text or quotes to let someone know you are thinking of them might immensely cheer up their day.
You want them to know this.
You want to share your thoughts with your most beloved person.
However, if you still haven't been able to experience love, you have nothing to worry about. Someday, you'll fall in love and realize how true our statement is.
Love has undeniably a unique feature- it's hard to address with words.
If you find it challenging to gather the right words to tell someone, take a look at these heart-warming quotes to let someone know you are thinking of them. Show them that you truly adore and care.
Quotes to Let Someone Know You are Thinking of Them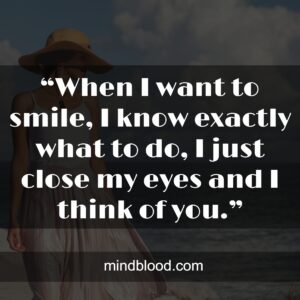 "When I want to smile, I know exactly what to do, I just close my eyes and I think of you." — Anonymous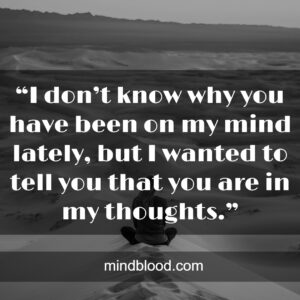 2. "I don't know why you have been on my mind lately, but I wanted to tell you that you are in my thoughts."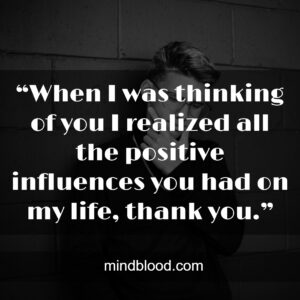 3. "When I was thinking of you I realized all the positive influences you had on my life, thank you."– B. Rivers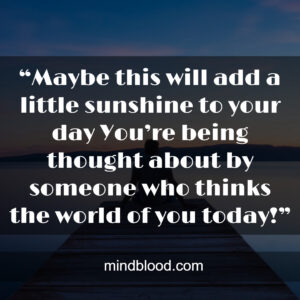 4. "Maybe this will add a little sunshine to your day You're being thought about by someone who thinks the world of you today!"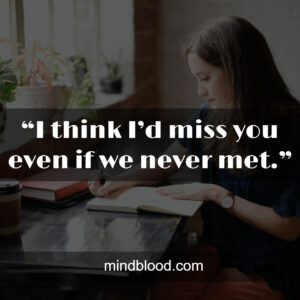 5. "I think I'd miss you even if we never met."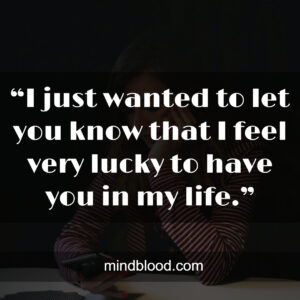 6. "I just wanted to let you know that I feel very lucky to have you in my life."– Ann Lynn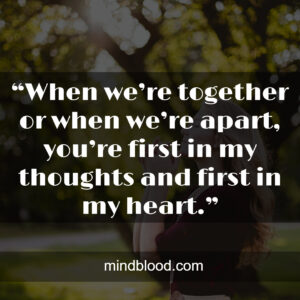 7. "When we're together or when we're apart, you're first in my thoughts and first in my heart."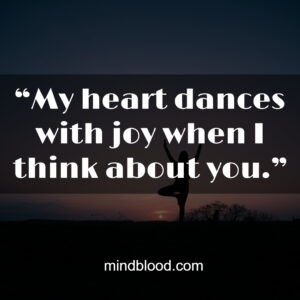 8. "My heart dances with joy when I think about you." — Debasish Mridha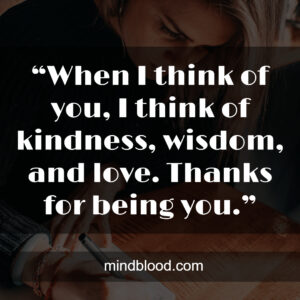 9. "When I think of you, I think of kindness, wisdom, and love. Thanks for being you."– Sam Crow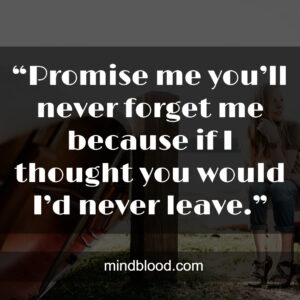 10. "Promise me you'll never forget me because if I thought you would I'd never leave." ― A.A. Milne.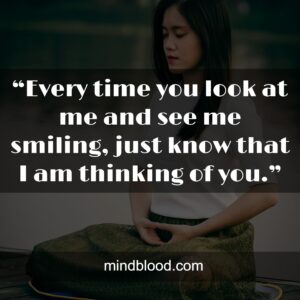 11. "Every time you look at me and see me smiling, just know that I am thinking of you." — Anonymous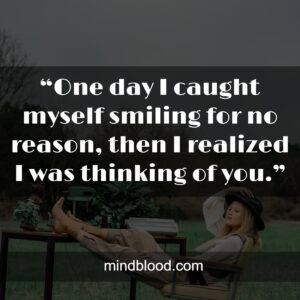 12. "One day I caught myself smiling for no reason, then I realized I was thinking of you."– Rahul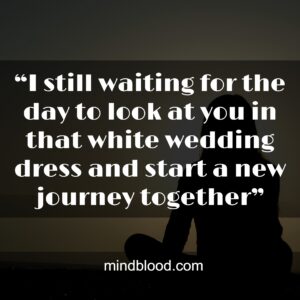 13. "I still waiting for the day to look at you in that white wedding dress and start a new journey together"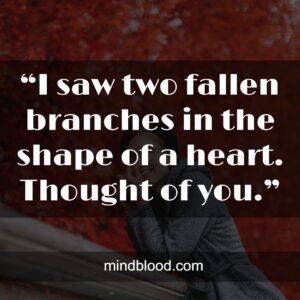 14. "I saw two fallen branches in the shape of a heart. Thought of you." — Stephanie Perkins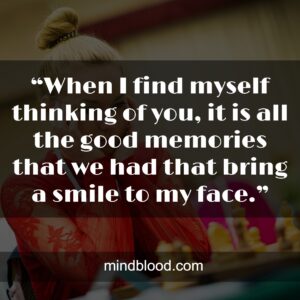 15. "When I find myself thinking of you, it is all the good memories that we had that bring a smile to my face."– C. Pulsifer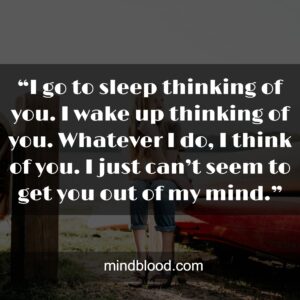 16. "I go to sleep thinking of you. I wake up thinking of you. Whatever I do, I think of you. I just can't seem to get you out of my mind."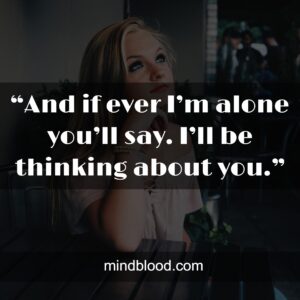 17. "And if ever I'm alone you'll say. I'll be thinking about you." — Calvin Harris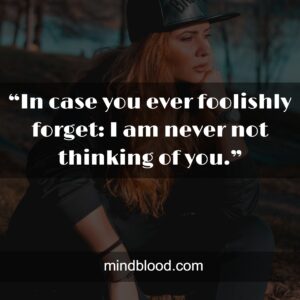 18. "In case you ever foolishly forget: I am never not thinking of you."– Virginia Woolf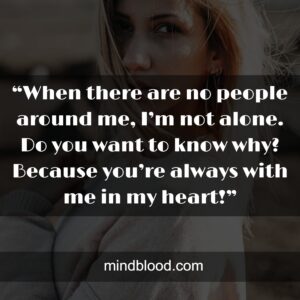 19. "When there are no people around me, I'm not alone. Do you want to know why? Because you're always with me in my heart!"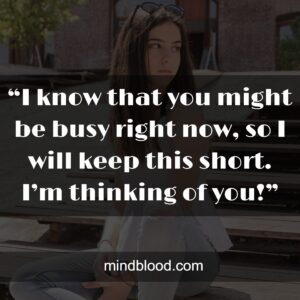 20. "I know that you might be busy right now, so I will keep this short. I'm thinking of you!"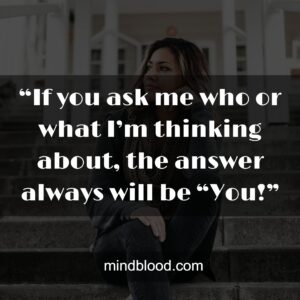 21. "If you ask me who or what I'm thinking about, the answer always will be "You!"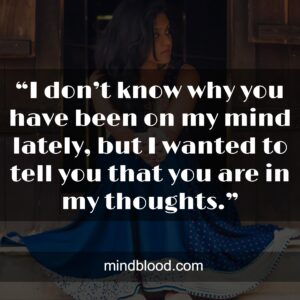 22. "I don't know why you have been on my mind lately, but I wanted to tell you that you are in my thoughts."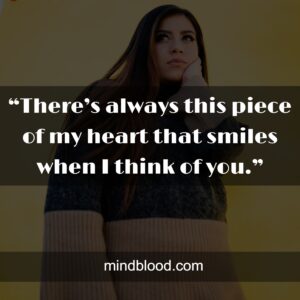 23. "There's always this piece of my heart that smiles when I think of you."
24. "So, here I am, all by myself, thinking of you – no one else. There's a feeling inside and as hard as I try, it just won't go away."– Angel Hema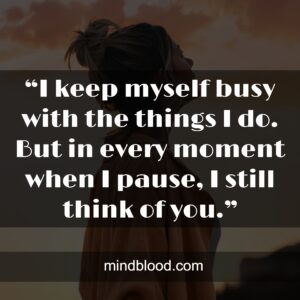 25. "I keep myself busy with the things I do. But in every moment when I pause, I still think of you."– Mitch Cuento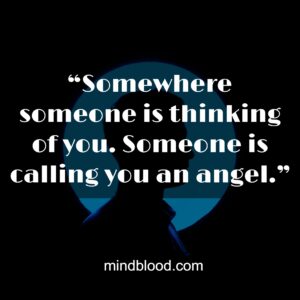 26. "Somewhere someone is thinking of you. Someone is calling you an angel." — Henry Rollins
These love quotes indeed glow one's heart
Letting the people we adore to be aware of how much they mean to us has a positive, healing benefit for us as well as our loved ones.
These inspirational and uplifting words are essential to strengthen distant relationships. Letting someone you care about be aware of how much you think of them is comforting and reassuring.
There is nothing remarkable than being constantly reminded that you're in someone's thoughts, with the reminder expressed in utmost sincere way.
Not only does it lift someone's mood; it also brings out the best in them.
We hope these quotes are heart-touching and are worth sharing with your beloved ones as it's crucial to make them feel special.
We are confident that you have someone special in your life, and that's why we make it easier for you to inform and appreciate them, more so the new couples who have fallen in love just recently.
For the new couples, here's a tip: it's essential to let someone know you are thinking of them.
Anyone who likes you and wants you to be part of their life, to fulfil their wishes, it's advisable not to offer any expensive stuff.
You may take him or her on a movie date or enjoy a coffee so that in your absence or when you're busy, the ideal person understands your importance.
Make sure to be quite motivational and impactful on your special one's life. Uplift them with positive energy and surrounding.
Feel free to share these quotes to let someone know you are thinking of them with your loved ones, friends and family. You can also share your best quote(s) in the comment section below.