Sometimes it's difficult to stand up for your own opinion, but that's what makes it so important to do so, especially when everyone else seems to be against it.
People hate to see someone differ from the norm and standing up for what they believe in because, somehow, it threatens their perception of the world.
At times, people become defensive and criticize those who decide to preserve what they are comfortable with.
Often times fear, insecurities, and social pressures keep our mouths shut at the sight of injustices. We are scared of the repercussions of speaking out-what people may think of us and thus let things slide.
As a result, many bad situations arise, and negative events occur because we don't stand up for our beliefs.
When you sit back lazing by, it's easier to lose sight of who you are, whether it's in your community, relationships, or personal life.
Your values become faded as you put them aside for the sake of convenience. To preserve your sense of identity, you must stand up to your beliefs.
Stand up for what you believe in, even if it means standing alone
The truth is, the world isn't black or white. It's not just made up of people who agree with you and those who don't. There are different opinions, background, beliefs, and values that make up the world we live in.
Every person has a unique perspective that makes them different from each other.
So every single person has a duty to defend what they believe in, because it is important to stick up for your own ideas-even if no one else does.
Be the Change You Wish to See
The best way to make a difference in this world is by being the change you wish to see. The most important thing is not what we say, but how we live. People may forget what you said and did, but they won't forget how your actions impacted their lives.
If you support an act, say so. If anything feels wrong, oppose it. It's not usually easier sailing, but your conscience will thank you. With that in mind, we leave you with these quotes about standing up for what you believe in.
It takes courage to stand up for what you believe in
Part of standing up for your beliefs is to be courageous. Having courage doesn't mean you're not afraid. Most courageous people are afraid, but they take action because they know it's essential.
Someone who stands up for their beliefs, even though it may be false, is often admired than someone indecisive.
It's, therefore, important to gain courage and stand up for what you believe in that you must dare to raise your voice, particularly if it's not the common opinion because that's when it becomes compulsory for you to stand up for what's right.
Besides, if you don't, who will?
It's Free Will
Standing up to and expressing your beliefs is also free will. You're in control of your doings. You get to choose what you like and what you want. Don't let your girlfriend or boyfriend command you on what to do. They need to understand you're a fellow being with your own dreams, desires, and goals- not some machine to fix their bidding.
Don't allow your friends to bully you just because your taste in music or clothes differs from theirs. If your nearest companion can't respect your free will, it's evident they're not worth being near you. It's up to you to decide who's worth it. And that's the power of free will. You alone get to decide your identity and actions.
Don't freely surrender your freedom by merely shying off from openly expressing yourself. Be yourself. Be courageous and stand up for your beliefs, even if you have to standalone. Since even if you stand by yourself, you'll know certainly it was your decision.
Quotes About Standing Up for What You Believe in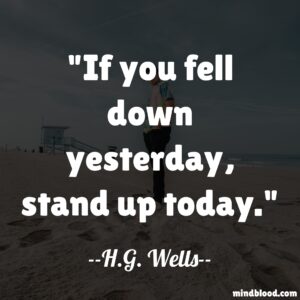 1. "If you fell down yesterday, stand up today." – H.G. Wells.
2. "Everything is a learning process: any time you fall over, it's just teaching you to stand up the next time." – Joel Edgerton.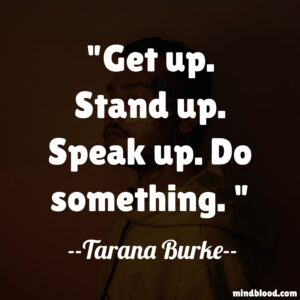 3." Get up. Stand up. Speak up. Do something." – Tarana Burke.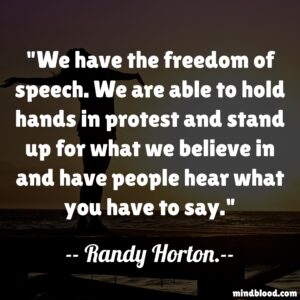 4. "We have the freedom of speech. We are able to hold hands in protest and stand up for what we believe in and have people hear what you have to say." – Randy Horton.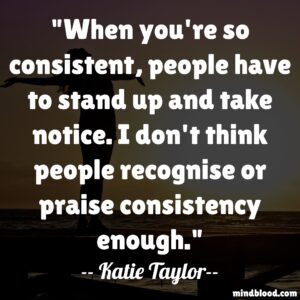 5. "When you're so consistent, people have to stand up and take notice. I don't think people recognise or praise consistency enough." – Katie Taylor.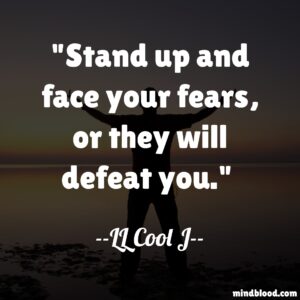 6. "Stand up and face your fears, or they will defeat you." – LL Cool J.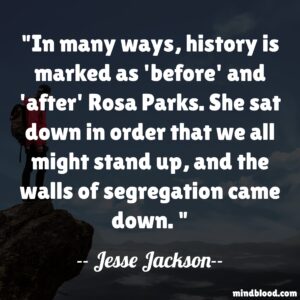 7. "In many ways, history is marked as 'before' and 'after' Rosa Parks. She sat down in order that we all might stand up, and the walls of segregation came down. "- Jesse Jackson.
8. "There comes a time when you have to stand up and be counted." – Gale Sayers.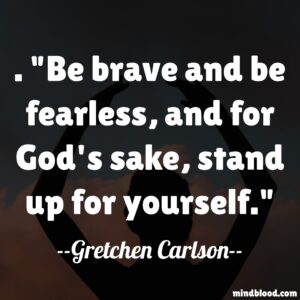 9. "Be brave and be fearless, and for God's sake, stand up for yourself." – Gretchen Carlson.
10."Stand up to your obstacles and do something about them. You will find that they haven't half the strength you think they have." – Norman Vincent Peale.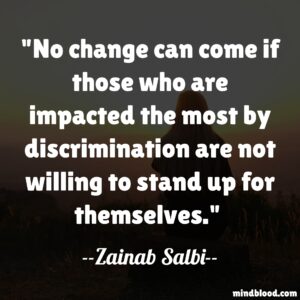 11."No change can come if those who are impacted the most by discrimination are not willing to stand up for themselves." – Zainab Salbi.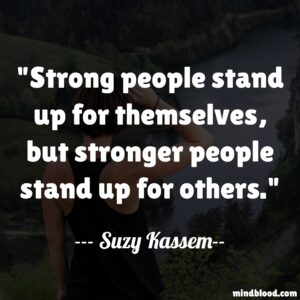 12. "Strong people stand up for themselves, but stronger people stand up for others." – Suzy Kassem.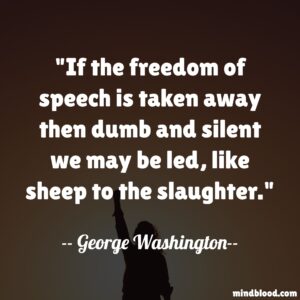 13. "If the freedom of speech is taken away then dumb and silent we may be led, like sheep to the slaughter." – George Washington.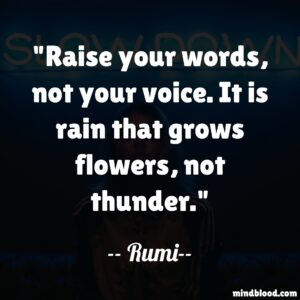 14. "Raise your words, not your voice. It is rain that grows flowers, not thunder." – Rumi.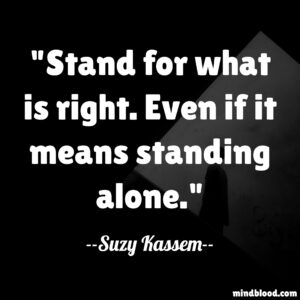 15. "Stand for what is right. Even if it means standing alone." – Suzy Kassem.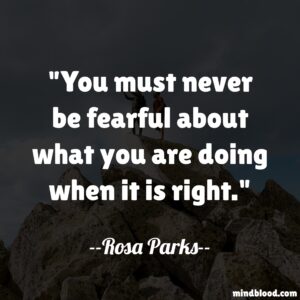 16. "You must never be fearful about what you are doing when it is right." – Rosa Parks.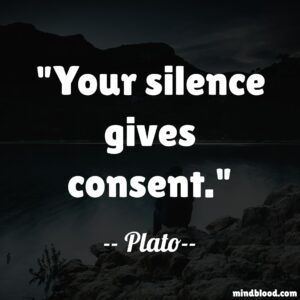 17. "Your silence gives consent." – Plato.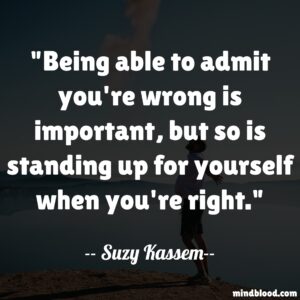 18. "Being able to admit you're wrong is important, but so is standing up for yourself when you're right." – Suzy Kassem.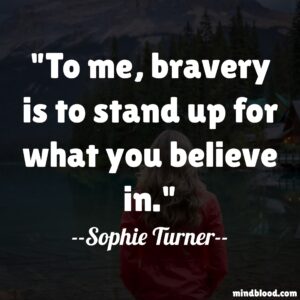 19. "To me, bravery is to stand up for what you believe in." – Sophie Turner.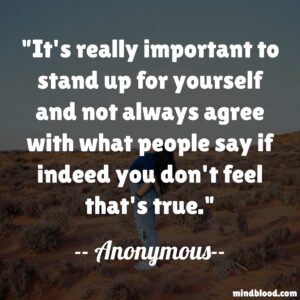 20. "It's really important to stand up for yourself and not always agree with what people say if indeed you don't feel that's true." – Anonymous.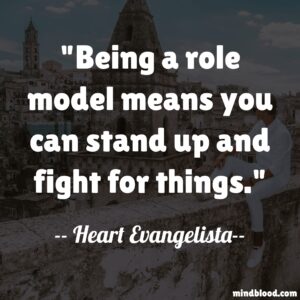 21. "Being a role model means you can stand up and fight for things." – Heart Evangelista.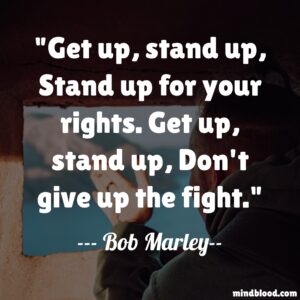 22. "Get up, stand up, Stand up for your rights. Get up, stand up, Don't give up the fight." – Bob Marley.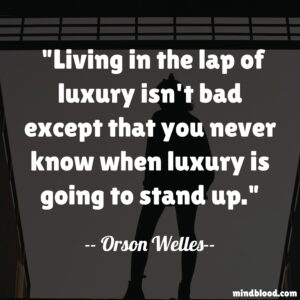 23. "Living in the lap of luxury isn't bad except that you never know when luxury is going to stand up." – Orson Welles.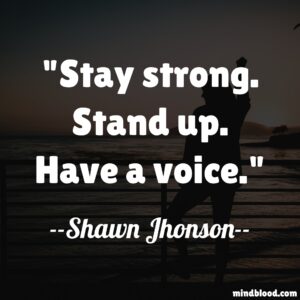 24. "Stay strong. Stand up. Have a voice." – Shawn Jhonson.
Final Verdict
There are many people who will disagree with you and your opinions. But that doesn't mean they're right. Be confident in what you believe, or no one will take it seriously.
To know what you love and value most, you must discover yourself first. Know your strengths and weaknesses.
What do you want most in life? What drives your creativity? Your passion? Your energies? Find out what lights your internal fire- that's how you find meaning and purpose in life.
We hope our quotes about standing up for what you believe in have inspired you to let go of your fears and stand up for your beliefs. If so, please consider sharing them with your family, friends, and loved ones as well as on your social media platforms.
Also, if you feel there's some quote left behind, feel free to leave us a comment in the comment section below.