What comes to your mind when you think of a sunflower? Is it its shiny golden yellow surface, that bright sunshine, and that sweet fragrance? If so, then you are a sunflower fan. There are, however, numerous lessons that we can learn from gardening and nature, as depicted by these sunflower quotes.
Sunflowers are among the most detectable flowers. They come with deep golden petals and large brown centers all round. However, one thing that makes them easily recognizable is their height. They tend to grow six feet tall and even more. Their beautiful yellow petals, coupled with their huge size, make these flowers exquisite to stare at if you happen to come across them.
What Makes Sunflowers Special?
Another feature that makes sunflowers special is the fact that they follow the sun during the day. They turn their heads to absorb the sunshine. Nevertheless, not only are these unique flowers appeasing to our eyes. They are also of educative value as they teach us some important life lessons.
A sunflower is often regarded as an example of joyfulness and positivity. It never looks directly away from the sun. During difficult times, we need to stand tall and firm and look in the direction of the sun- just like the sunflower. Observing a field of yellow flowers does nothing but put a smile on our faces.
For a significant impact in your garden, make sure to plant sunflowers for a happy inspiration. They are available in other colors and are also the easiest flowers to grow. In the meantime, here are some inspirational sunflower quotes that will undoubtedly bring you joy and brighten even the dreariest day of your life.
Here you'll find good short quotes about what makes sunflowers positive and unique, as well as what they symbolize. Read along for that extra shine!
Top 15 Meaningful Short Cute Sunflower Quotes
1."Keep your face to the sunshine and you cannot see the shadow. It's what sunflowers do." – Helen Keller.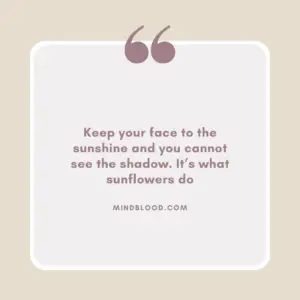 2."Sunflowers end up facing the sun, but they go through a lot of dirt to find their way there." –  J.R. Rim.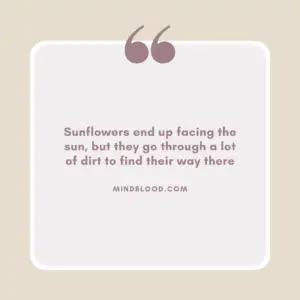 3."Never look directly at the sun. Instead, look at the sunflower." – Vera Nazarian.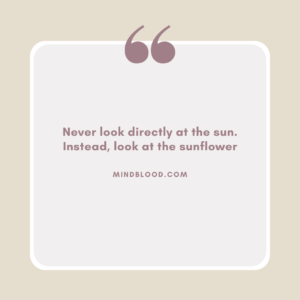 4."Turn your face to the sun, and shadows follow behind you." – Maori Proverb.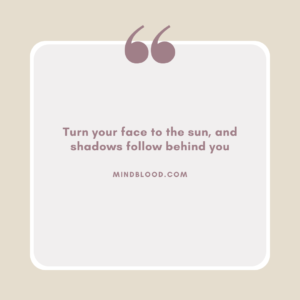 5."If I were a flower, I would be a sunflower. To always follow the sun, turn my back to darkness, Stand proud, tall and straight even with my head full of seeds." –  Pam Stewart.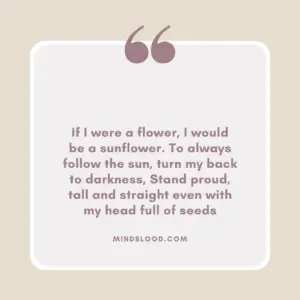 6." Always look at the brighter side of life, just like the sunflower, which looks upon the sun, not the dark clouds." – Unknown.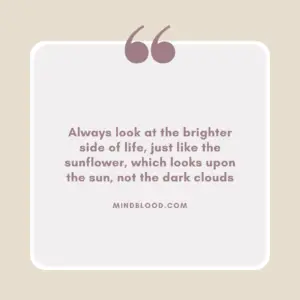 7."True friends are like bright sunflowers that never fade away, even over distance and time." – Marie Williams Johnstone.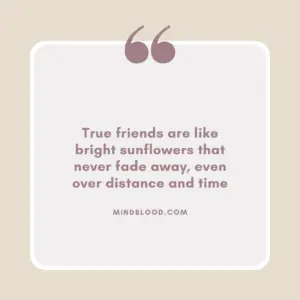 8." A rose can never be a sunflower, and a sunflower can never be a rose. All flowers are beautiful in their own way, and that's like women too." – Miranda Kerr.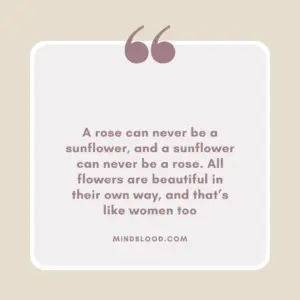 9."Space for the sunflower, bright with yellow glow, To court the sky." – Unknown.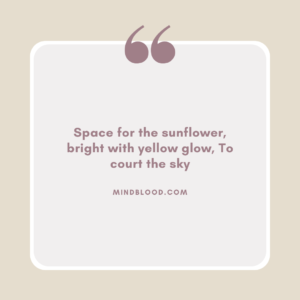 10."Despite knowing they won't be here for long, they still choose to live their brightest lives — sunflowers." – Rupi Kaur.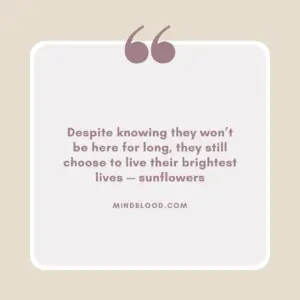 11."My will broke at the sound of his voice, and my head turned with as much inevitability as a sunflower turning its face to the sun." –  Patricia Briggs.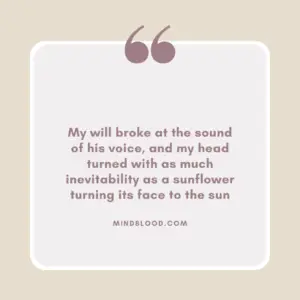 12."Attention shifted to him like sunflowers turning to the sun." -Khaled Hosseini.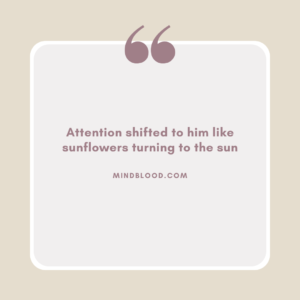 13."A sunflower teaches us so much about love." –  Samrah Ahmad.
14."I chose a sunflower because when darkness descends they close up to regenerate. But I really wish I'd never had the tattoo in the first place. Clean, clear skin is always better." – Halle Berry.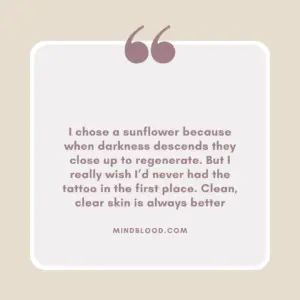 15."Advice from a sunflower: be bright, sunny, and positive. Spread seeds of happiness. Rise, shine, and hold your head high." – Unknown.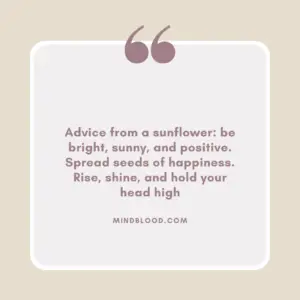 More Sunflower Quotes
16."The road to freedom is bordered with sunflowers." – Martin Firrell.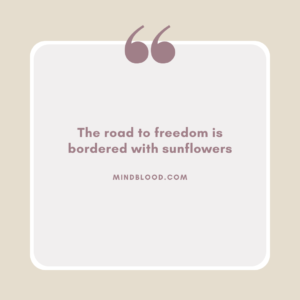 17." A sunflower field is like a sky with a thousand suns." – Corina Abdulahm-Negura.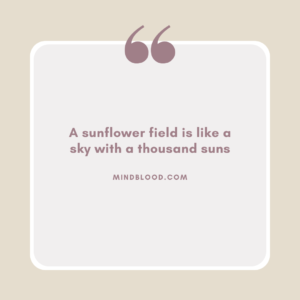 18."The sunflower is a favorite emblem of constancy." – Thomas Bulfinch.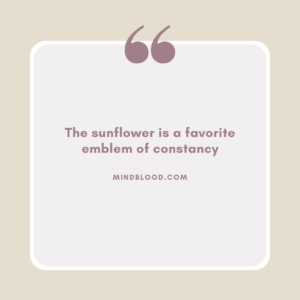 19." Wherever the sun goes ,The sunflower will follow . Through all of the pain ,And all of the sorrow." – Londrelle.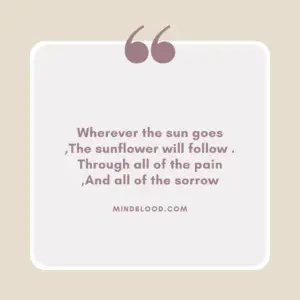 20."Smile to the world and smile to the people you love, as a sunflower smiles at the sun." – Remez Sasson.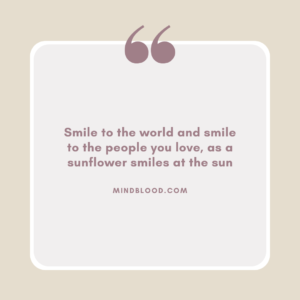 21."Be like a flower and turn your face to the sun." – Kahlil Gibran.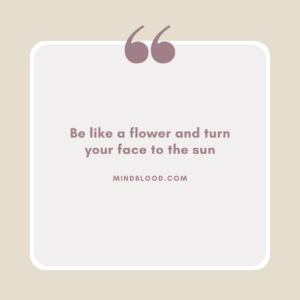 22."Standing among the sunflowers, I craved divinity." – Michael Paterniti.
23."Like sunflowers, galaxies, and fingerprints, your life is an intricately designed spiral." – kristen Lee.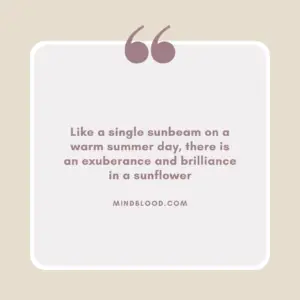 24."Every friend is to the other a sun, and a sunflower also. He attracts and follows." – Jean Paul.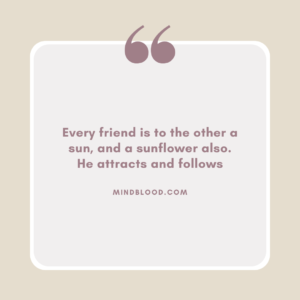 25."If roses tried to be sunflowers, they would lose their beauty; and if sunflowers tried to be roses, they would lose their strength." –  Matshona Dhliwayo.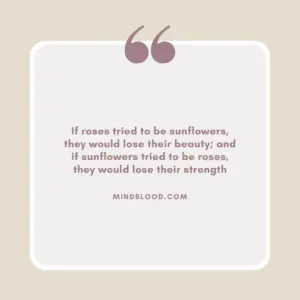 26."When I went out to work today and looked a tall sunflower in the face, it smiled at me with all of its seeds." – Vladimir Nabokov.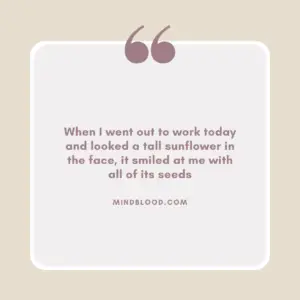 27."And the yellow sunflower by the brook, in autumn beauty stood." –William Cullen Bryant.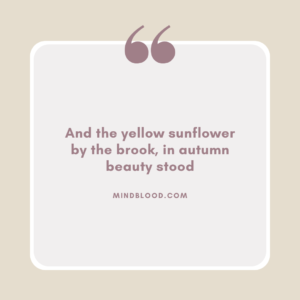 28."The morning glories and the sunflowers turn naturally toward the light, but we have to be taught, it seems." – Richard Rohr.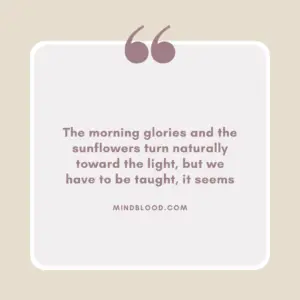 29."Her heart bloomed sunflowers so she would always face the light" – Gemma Troy.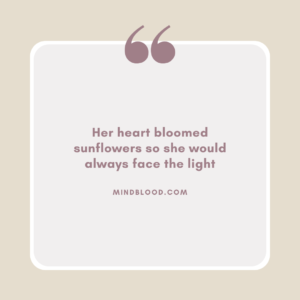 30."And here the sunflower of the spring burns bright in the morning's beam." – Ebenezer Elliott.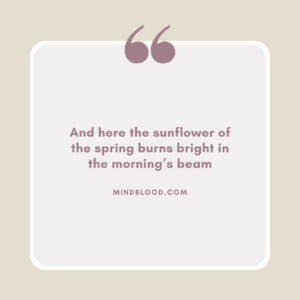 31."Like a single sunbeam on a warm summer day, there is an exuberance and brilliance in a sunflower." – Anonymous.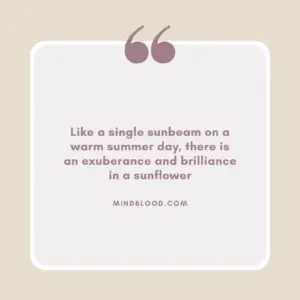 32."She's a sunflower, strong and bold and true to herself. Not as lovely as a rose, but also not as fragile." – Unknown.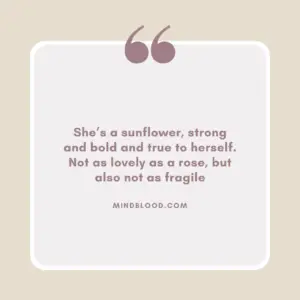 33."The sunflower is mine, in a way." – Vincent van Gogh.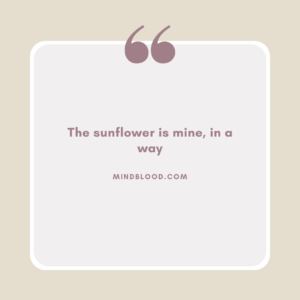 34."A wise quote can only change a wise man! Therefore, wise sayings are for the wise men, not for the fools! The sunflowers turn their face toward the Sun, the fools, toward the darkness!" – Mehmet Murat Ildan.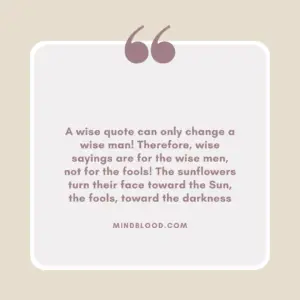 35."Mom has a massive sunflower for a soul so big there's hardly any room in her for organs." – Jandy Nelson.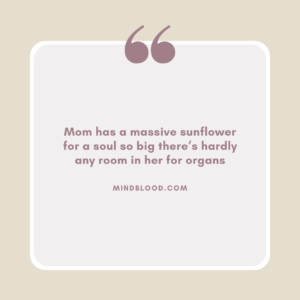 36."We're all golden sunflowers inside, we're all blessed by our own seed & golden hairy naked accomplishment." – Allen Ginsberg.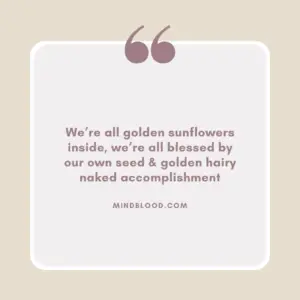 37." Don't judge each day by the harvest you reap, but by the seeds that you plant." – Robert Louis Stevenson.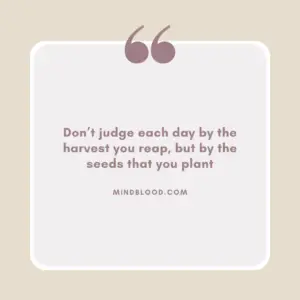 38."Fame is the scentless sunflower, with gaudy crown of gold; But friendship is the breathing rose, with sweets in every fold." – Oliver Wendell Holmes.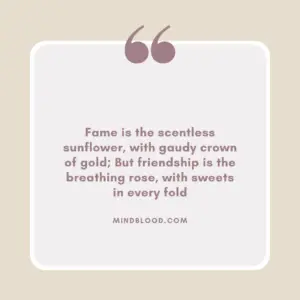 39." A long time ago in a kingdom by the sea there lived a princess as tall and bright as a sunflower." – Jeanne Desy.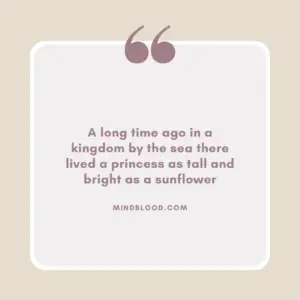 40."Restless sunflower; cease to move." – Pedro Calderon de la Barca.
41."Then one by one they raised their faces to the sky. 'Like a field of sunflowers." – Fiona Valpy.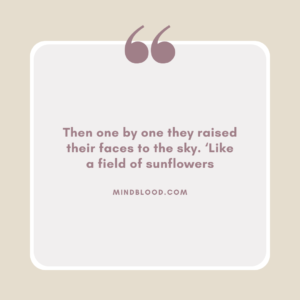 42."I remember my first role as a sunflower at nine." – Kay Kay Menon.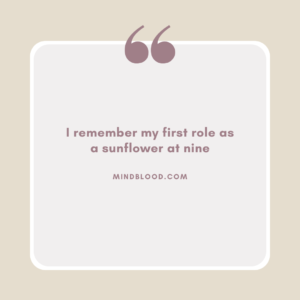 43."The morning glories and the sunflowers turn naturally toward the light, but we have to be taught, it seems." – Richard Rohr.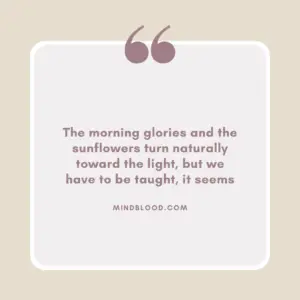 44."You'll emerge so bright that the haters will be blinded. And darling, you'll be the sun then, bright and beautiful, but they won't be your sunflowers." – Minahil.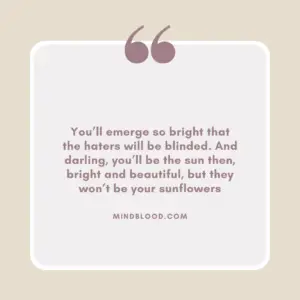 45."I don't think there's anything on this planet that more trumpets life that the sunflower.. A satellite dish for sunshine." – Helen Mirren.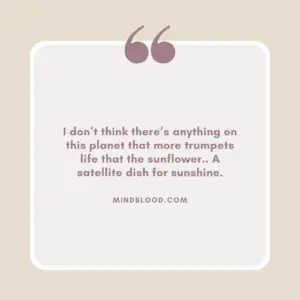 46."A sunflower for my sunflower. To brighten the dark October days you hate so much. Plant some more, and be safe in the knowledge a warm and bright summer awaits." – Cecelia Ahern.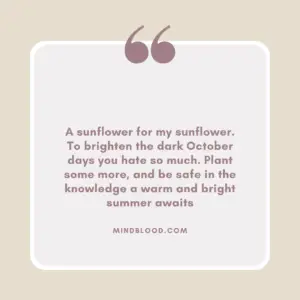 47."Pick up a sunflower and count the florets running into its centre… and you will find an extraordinary truth: recurring numbers, ratios and proportions." – Charles Jencks.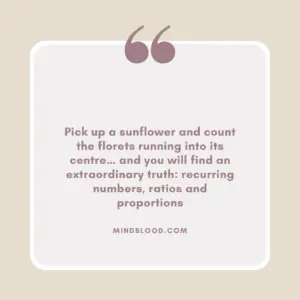 48."To be nothing. Of all the ways the sunflower has of loving light, regret is the most beautiful shadow on the sun dial." – Andre Breton & Paul Eluard.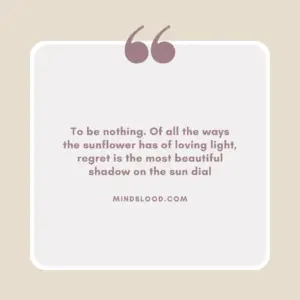 49."In a crowd of roses, choose to be a sunflower. Thornless. Unwithering. Abundant in seeds." – Jatawny M.Chatmon.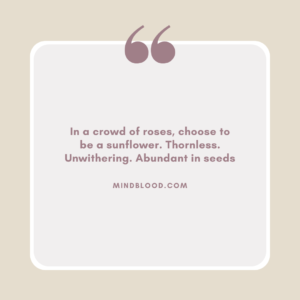 50."Big doesn't necessarily mean better. Sunflowers aren't better than violets." – Edna Ferber.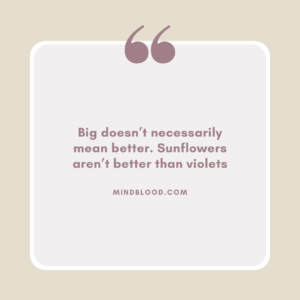 Be Like the Sunflower
Ensure to model your life like the sunflower. When in the midst of challenging moments, make sure you remain focused on positive things, just like the sunflower stares at the sun as it moves through the sky.
Sometimes it isn't easy to find an inspiration to remain fixated on positivity when positivity itself feels like a nightmare. The main hinderance to focusing on the positive is the fact that the human brain is programmed to search for and dwell on threats. This mechanism breeds negativity and pessimism through the tendency of our minds to navigate till it discovers a threat.
When you imagine a threat and spend three months convinced that what you are working on will fail, this creates a soured perception of reality in your mind that results in a huge mess in your life, leaving you miserable.
On that note, focusing on positivity has been regarded as an uphill task that needs devotion. You must be willing to remain positive if you are going to get rid of the brain's ability to dwell on threats.
Do your best to imitate the brightness of the yellow petals in your character and how you treat and perceive other people. Besides, always make sure to stand tall just like the sunflower does. Don't be afraid to reveal anything that makes you special and unique.
We hope you've enjoyed these sunflower quotes and will be inspired to share them with your friends, family, and loved ones.